Our Culture
Culture, equalities and inclusion
Here at Croydon, our vision of the culture of the council is to " create a collaborative, inclusive and creative environment which allows talent to flourish"
We nurture and develop our culture through:
our core set of values - the foundation of our council
running six staff network groups, offering members support and giving staff a voice when it comes to making the big decisions at Croydon
driving our Culture Plan overseen by the Culture Board
a group of engaged and passionate Culture Ambassadors
Culture Board
We have a culture board in place to help achieve our vision through the culture plan.
It recognises the contribution of the staff network groups who sit on the board and supports their work.
The board brings together all that the council does to make sure that we have the right people, with right skills doing the right jobs - so that we can deliver better outcomes for local people.
The board meets bimonthly for two hours, members include:
Jo Negrini, chief executive and chair
Executive leadership team
The chairs and sponsors of our six staff networks
Representation from HR, organisation development and communications
Our Values
We are committed to excellence in all we do. Our values reflect the attitude and approach we take to working together to deliver services to our borough.
One team - Crossing boundaries to work together towards shared goals with colleagues, partners and communities
Proud to serve - Striving to always do our best for the community, getting the most from limited resources and using taxpayers' money wisely
Honest and open - Working hard to build trust by treating everyone with honesty and integrity
Taking responsibility - Encouraging and supporting each other to take responsibility and show what we can do, learning together and recognising all of our contributions
Valuing diversity - We make the most of the many perspectives that make Croydon distinctive.
Staff Network Groups
Our six staff networks are an integral part of Croydon Council's cultural landscape. They provide their members with personal and career support, run awareness-raising events, sit on the Culture Board and help shape the big decisions which affect everyone at Croydon. All our staff networks are sponsored by a member of our leadership team to ensure they're represented at the highest level.
BAME staff network
Disability staff network
LGBT+allies staff network
Mental health and wellbeing staff network
Women's staff network
Working carers' staff network
Making an impact
From policy change and guidance to adjustments to building facilities and staff equipment, our staff network groups have a real impact and effect positive change throughout the organisation. The staff network groups annual report highlights several of the areas where staff networks are making a significant impact, and below are a couple of recent examples.
The work of the disability staff network, working together with our ICT partners and facilities management helped ensure accessibility was at the top of the agenda for starters and employees who have a disability and led to the introduction of Radar Key in accessible toilets, better room signage, lift lighting, door entry systems and pillar strips.
The LGBT+ allies staff network's campaigning and assistance in getting Croydon Council to participate in the Stonewall Workplace Equality survey 2018 resulted in Croydon Council jumping 95 places and being ranked just outside its top 100 employers to work for. A great achievement.
Since launching, our staff networks have increased in membership and influence. We now have more than 1000 staff network members – that's 35% of council employees and a 12% increase in 2017-18.
Join in the fun, socialise and help raise awareness
The staff networks are also a great way to get to know other staff members. Individually and collectively, the staff networks put on a wide-range of informative and fun events.
From last year's Don't Dis-Ability, a celebration event at Boxpark Croydon featuring live music, comedy and djs, to social meet-ups, support sessions, charity bike rides, discussions, film screenings and staff training, there are a number of events and activities to get involved in.

Croydon was named overall winner (public sector) in July 2018 at the Employers Network for Equality & Inclusion Awards.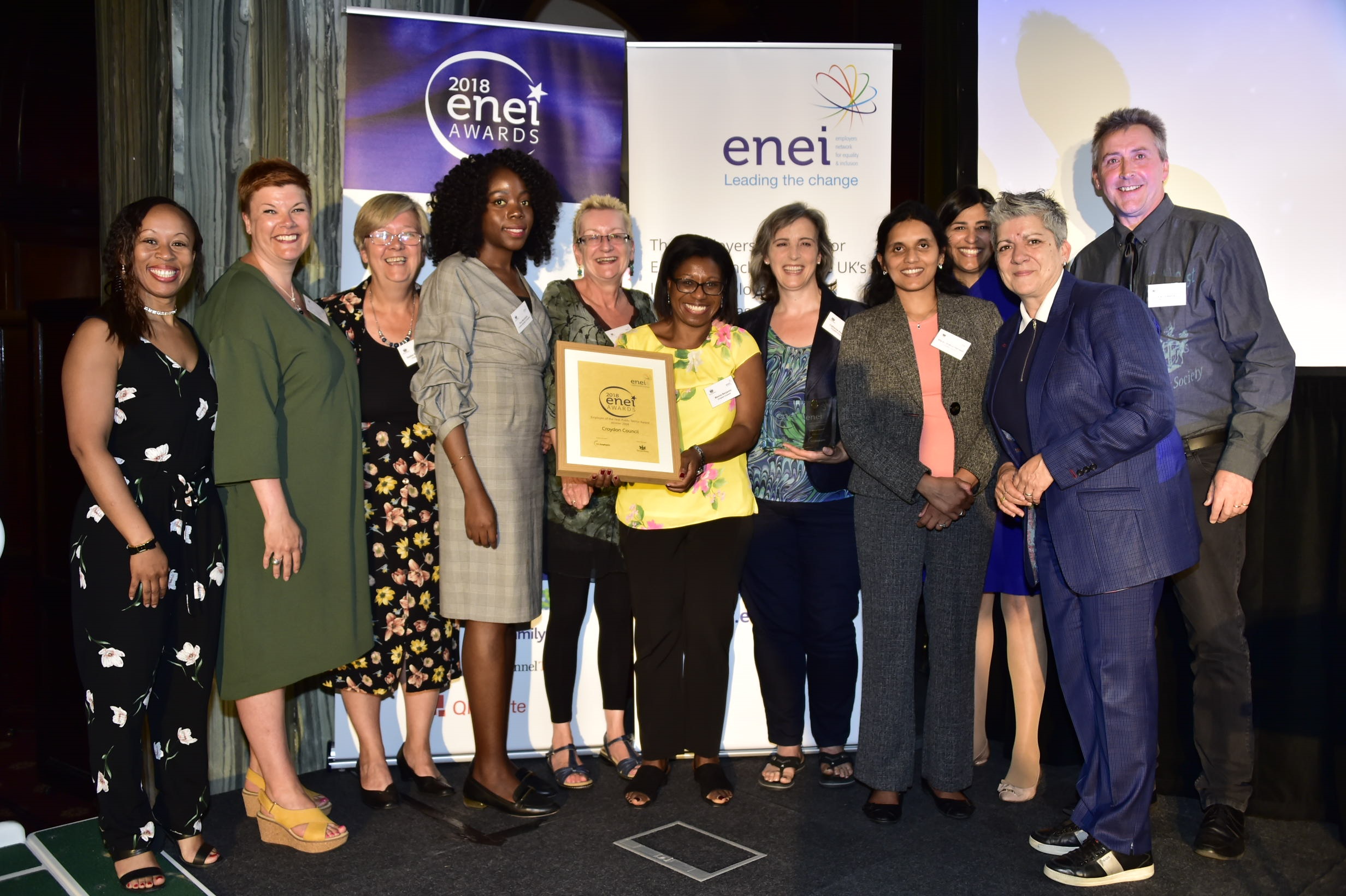 Jo Negrini, Chief Executive – 'I'm so proud that Croydon's real commitment to diversity has been recognised at the highest level. The ENEI Awards recognise the dedication of organisations to achieving diverse and inclusive workplaces, celebrating the teams and individuals who really are making a difference.
It was a fantastic night for Croydon, unprecedented in fact – as well as scooping the top prize, Croydon also won the Apprenticeships Award, was awarded highly commended in the Employee Network Group category, and shortlisted for the Impact Through Innovation Award.
Our success as overall winner (public sector) was based on the overall strength of submissions across all the entered categories, which demonstrated our commitment to going above and beyond for our staff and residents in all aspects of diversity and inclusivity.
Croydon's apprenticeship programme,developed to positively change people's lives, was triumphant in the apprenticeships category. Our entry focussed on the programme's equality objectives; designed to support people often with a barrier to employment into work. Our commitment to creating a range of positions across the organisation and the fresh energy apprentices have brought to the delivery of services was also of note.
The incredible achievements of our staff network groups who have gone from strength to strength over the past couple of years were also honoured. The efforts of the Mental Health and Wellbeing staff network in raising awareness of the importance of taking care of our mental health earned us a highly commended accolade. The development of guidance around menopause in the workplace – steered by a subgroup of the Women's staff network was shortlisted in the competitive innovation category.
I am over the moon at these results – so much work goes on to make sure Croydon is an innovative and inclusive workplace in order to improve the wellbeing of staff and the overall quality of services we deliver to residents. It's terrific to see this hard work is paying off, from positive results in this year's staff survey, where 92.2% said they would recommend Croydon as an all-inclusive employer, to successes at the awards event'.